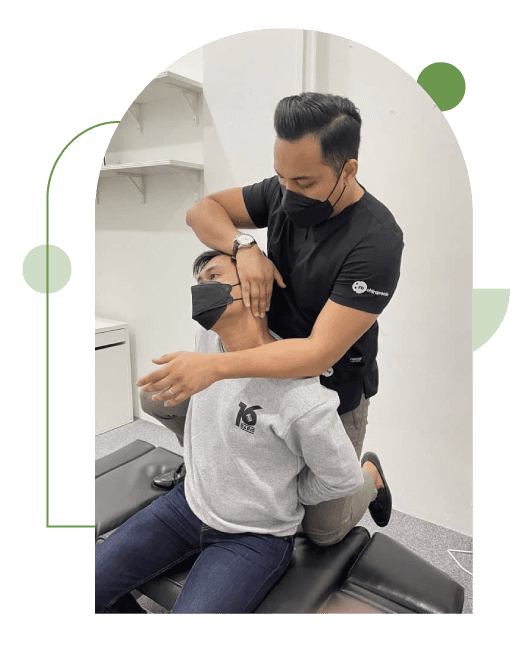 Release that tight muscle knot with Deep Tissue Sports Massage
Due to inadequate stretches or excessive overload, our deep muscles tissues may at times become stiff and unable to function optimally. Such muscular strains may even cause severe pain, numbness, stiffness or reduced range of motion in joints.

The aim of a Sports Massage Therapy is to release muscle knots and scar tissue, stretch stiff muscles to increase range of motion in joints, flush away lymphatic wastes (such as lactic acid), speed up the recovery of strained muscles and to aid in correcting muscular imbalances. In doing so, the muscle fibres experience something similar to a strength training exercise, which leads to Delayed Onset Muscle Soreness (D.O.M.S.).
Certified & Experienced Sports Massage Therapist
Who Is This Therapy For?
Our sports stretch massage services are tailored for a wide array of active individuals, from Marathon Runners and Triathletes to Desk Job Workers and General Gym Goers. Whether you're a professional athlete, a fitness enthusiast, or someone looking to alleviate the stress of daily life, our specialized massages offer targeted relief and rejuvenation for everyone. Experience the benefits today, no matter your walk of life!
Suitable for :
Pre/ Post-race and event
Reducing muscle tension/ DOMs
Facilitating and optimizing recovery
Reduce sports injury
Maximise training quality
What does Sports Stretch Massage therapy includes:
Deep Assisted Stretch
Deep Tissue Massage
Active Release Therapy
What Are The Benefits Of Sports Massage Therapy?
Improved Circulation
Stretched tissue leaves more room for blood vessels to expand and enter the body, increasing the flow of oxygen to the body and removing and waste products.
Improved Flexibility
Stretching also improves flexibility and aids motion to the joints. As people age their muscles become shorter and tighter and leaves more susceptibility to tension and injury and stretching helps to counteract this process by increasing flexibility.
Increases Your Range of Motion
Performing different stretches helps balance and increases the range of motions your body can do. A well stretched body uses less muscle power and allows us to move with greater flow making stretching not only increases the range of movements your body can perform, but also their quality.
Reduces Lower Back Pain
For the many people that experience lower back pain, stretching will strengthen muscles and make them more resilient to strain and injury.
Try out professional sports massage for only S$90!
Original Price: S$120!
Don't miss this exclusive offer to experience an revitalizing 60 minutes sports massage that will invigorate your body and soul, aiding in faster recovery and overall well-being. Book your session today and take the first step towards a more balanced and energetic life!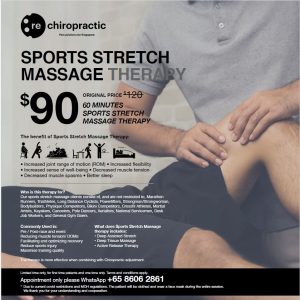 FAQs about Sports Massage
Sports Stretch Massage Therapy goes deep into your muscles, more than regular massages like Aroma Therapy. Here's how it works:
During the Massage: The massage focuses on the muscles beneath the surface ones. It's like a Deep Tissue Massage Stretch Treatment that targets the important muscles controlling your joints.

After the Massage: Your muscles may experience tiny tears within their covering, known as fascia. This is normal and part of the healing process.

Next One or Two Days: You might feel something called D.O.M.S., or Delayed Onset Muscle Soreness. It's common and a sign that your body is healing and adjusting.

Light Stretching Required: To keep your muscles flexible and prevent them from shrinking back to their tight state, some light stretches are advised.

Healing Process: Substances in your body like elastin and collagen work together to heal the muscles, leading to a better range of movement and more powerful muscle contractions.
In simple terms, Sports Stretch Massages are specially designed to go deep and focus on the areas that matter most for athletes and active individuals. They help your muscles heal, move better, and become stronger than regular massages.
Combining regular stretching with massage can help us get more from our bodies and unleash the potential in movement that many people believe is no longer possible. Like exercise, stretching takes work, but the benefits can be noticed quickly, and are absolutely worth experiencing.
If you have problems with stretching due to limited mobility we recommend coming to see us for a consultation to assess your conditions and provide a holistic plan to move your body (and your flexibility) forward.
No, sports massage is not only for athletes. While it's specifically designed to address the unique needs of athletes and those involved in regular physical training, the benefits of sports massage can be enjoyed by non-athletes as well.
People who engage in occasional recreational sports, those with physically demanding jobs, or even those who suffer from chronic tension or muscle imbalances can find relief through sports massage. The techniques used in sports massage, such as deep tissue manipulation and stretching, can help alleviate muscle stiffness, improve flexibility, and reduce pain and discomfort.
In fact, anyone looking for a more targeted approach to relieving muscle tension, enhancing mobility, or addressing specific muscular issues may find sports massage beneficial. It's always best to discuss your individual needs and concerns with a qualified massage therapist, who can tailor the treatment to suit your particular situation. Whether you're an elite athlete, a weekend warrior, or just someone looking to improve your overall well-being, sports massage might be an excellent option for you.
This massage would not be recommended to someone who was recently seriously injured within the last 3-6 months. This includes broken bones, torn muscles, tendons or ligaments. The severity of injury and speed of recovery would be taken into consideration before deciding if the Sports massage would be appropriate for them.
Avoid Sports Massage if you have the following:
Recent Fractures/ Trauma
Open wound/ Burns
Rheumatoid Arthritis/ Gout
Deep Vein Thrombosis
Recent Surgical Sites
Infectious Diseases
The client would be required to be in comfort workout attire, for female clients we recommend yoga pants or workout pants for below the hip treatment. If the treatment targets above the hips, women would be required to be in their sports top during their massage. A towel would be provided to cover the clients.
On the day of treatment, if the client insists on working out before their massage session, they would be facing more pain during the massage due to increased muscle tightness and soreness. They would be advised to do their workouts one or two days after treatment and only with light weights (about 50-70% of their usual weights lifted, with high repetitions to increase blood flow and the rate of muscle recovery).
They would be advised not to do any heavy lifting. The muscles should get back to full strength by the third day.
Add on 2 warm up sets prior to the workouts. Consistently stretching after workouts are also vital to maintain flexible and balanced muscles.
During a sports massage, a specialized massage therapist focuses on areas of the body that are overused and stressed from repetitive and often aggressive movements, common in athletic activities. Here's what happens during a session:
Assessment: The therapist begins by assessing your specific needs, understanding your sport or activity level, and identifying any areas of pain or tension.

Targeting Key Muscles: Unlike a general massage, a sports massage targets the muscles most used in your particular sport or activity, going deep to release tension and increase blood flow.

Using Special Techniques: The therapist uses a mix of techniques, including deep tissue massage, stretching, and trigger point therapy. This helps to reduce muscle stiffness, increase flexibility, and enhance overall performance.

Focus on Prevention & Healing: The massage isn't only for relaxation. It can help to prevent injuries by keeping muscles loose and flexible and promote faster recovery from existing injuries by reducing inflammation and promoting healing.

Post-Massage Guidance: After the massage, the therapist may offer guidance on stretching or strengthening exercises to help maintain the benefits of the massage.
A sports massage is an integral part of many athletes' training regimens, providing tailored care that helps enhance performance, reduce the risk of injury, and accelerate recovery. It's more than just a relaxing experience; it's a targeted therapy designed to meet the unique needs of active individuals.
Sports massage and normal massage differ mainly in their focus and techniques. Sports massage is tailored to those with specific physical demands, utilizing deeper and more targeted techniques to enhance performance, aid recovery, and prevent injuries. It often concentrates on particular muscle groups related to specific sports or activities. In contrast, a normal massage focuses on overall relaxation and stress reduction, using gentler strokes to soothe the superficial layers of muscles. While sports massage aims to address functional needs and specific physical conditions, normal massage seeks to provide general relaxation and well-being for a broader audience.
Highly recommend to engage Dr Daniel and team for your chiro needs. 1. The website is clear and the response time from the enquiry to their first whatsapp/sms is quick too. Registration process is seamless too. 2. The location is great with ample parking within and around the vicinity 3. Dr. Daniel is extremely attentive, pays close attention to your situation and does an excellent diagnosis. Very positive experience in my first treatment and will be back again soon!
Very experienced professionals and throughout treatment. Highly recommendable if you are looking for chiropractor in Singapore.
Qamsia Mohamad
2022-11-16
I had a bad fall and decided to visit Dr Jenny. She was able to relieve my stiff back and i could feel the realignment of my back has improved. I feel so much better after each session. Not to mention her warm and caring personality. She will listen to my concern and shares her knowledge and it's always v reassuring. Highly recommended! Knowledgeable and skillful chiropractor, friendly receptionist 🙂
Top Notch Chiropractic Singapore services! Very good chiropractors!
Dr Daniel Tan is very professional. The whole process is very clear and really pleasant experience. Highly recommended!
Brought my mother here as she was facing some back issue, this is only her 2nd session & she felt so much better. Front desk was very friendly! Dr Daniel was detailed in explaining it to my mum and letting her know what may have caused her back pain. Definitely 100% recommend anyone to give it a try. & they were not pushy with you signing the packages as well!
Dr Daniel Tan is a young Chiro who knows his stuff and is passionate in what he does. One of the better young chiros out there, 100% would recommend 👌
Professional staffs and enjoy the treatment