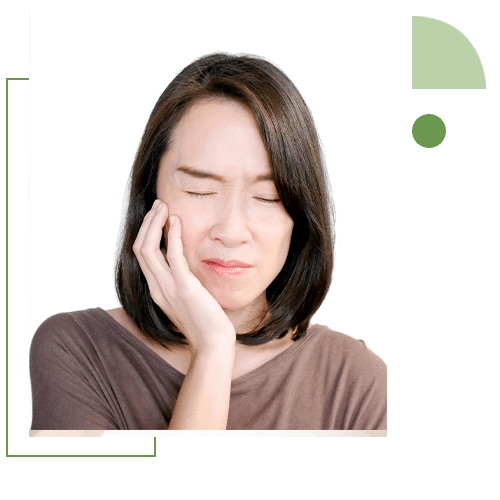 Jaw Pain from TMJ
Disorders of the temporomandibular joint and muscles are the most frequent causes of jaw pain (TMJ). Infections in the sinuses, blood vessel or nerve disorders, toothaches, and other diseases might be the cause. 
Jaw pain typically does not require emergency medical intervention. But it can also be a sign of a more serious underlying problem.
How can we help jaw pain from TMJ?
During the appointment, one of our chiropractors will perform a physical examination to determine the nature and severity of your condition. In addition to the physical examination, we'll review your past medical records and access X-ray results, if needed,  to identify the root of the problem. The chiropractor will suggest the best therapy, treatment, and rehabilitation course. Your condition-specific treatment plan may involve one or both:

Chiropractic Adjustments
An adjustment addresses nerve impingement due to the misalignment of spinal and/or extremity bones. This can happen due to trauma, sports injury, lack of exercise, bad posture, muscle spasm or weakness. For the adjustment hold position, it may take a series of adjustments to allow the connective tissue to recover their required lengths from being stretched too much.

TMJ Treatment
Consists of soft tissue treatment and gentle jaw adjustments to address TMJ dysfunction.
FAQs about Jaw pain from TMJ
This depends on the severity of the situation, every patient is different, therefore the amount of time to recover is different.
If you have done some dental work and start noticing jaw pain, perhaps you should consider seeing your dentist first.
If there is no recent dental work and you start noticing jaw pain, perhaps you should consider seeing a chiropractor.
We don't recommend this as a solution. There are many nerve endings and fine muscle groups around the TMJ. Self-treating your TMJ may cause more problems or even complicate your initial jaw pain.