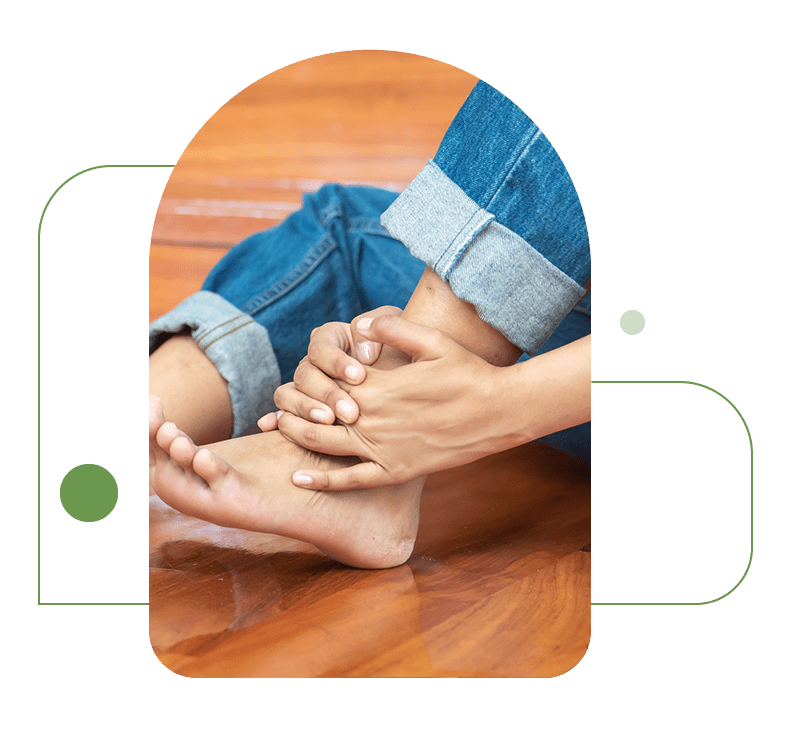 Ankle Pain
Most ankle sprains are lateral sprains, which occur when your foot rolls and twists your outside ankle toward the ground. The ligaments are stretched or ripped as a result of this action. 
A sprained ankle typically swells and bruises for 7 to 14 days. On the other hand, a severe injury may take several months to heal fully. 
Arthritis can also cause pain because the joint that connects the ankle to the leg is damaged or worn out. In severe cases, nerve damage or injury may cause chronic ankle pain.
Symptoms of Ankle Pain
Symptoms of ankle pain vary depending on the severity of the condition you may have, and these can include:
Pressure or constriction on the forehead, sides, and back of the head

Walking with a limp

Swelling

Immobility

Discolouration
How can we help with your ankle pain
During the consultation, our chiropractors will perform a physical examination to determine the cause and severity of your knee or ankle pain. In addition to the physical exam, we will review your past medical history and any recent X-ray results to determine the source of your pain. It is critical to identify the source of the pain in order to recommend the best course of treatment and rehabilitation. Treatment will be tailored to your specific condition, and options may include:

Chiropractic Adjustments
To improve spinal function and
spine mobility and alleviate the stress on your nerve system.
Myofascial Therapy
Relaxes contracted muscles and releases the fascia that covers the muscle.
Active Release Therapy
This technique applies to patients with chronic pain issues. Active release helps soft tissue with past injury to break away from adhesion, therefore increasing mobility and reducing inflammation
Dry needling
There are many benefits of dry needling, including its ability to relieve pain, improve range of motion, and increase blood flow to the affected area. It is also a relatively safe and low-risk treatment option compared to other therapy forms.

Home rehabilitation and exercise
 Introduce our simple home rehabilitation exercise you can follow to speed up your recovery.