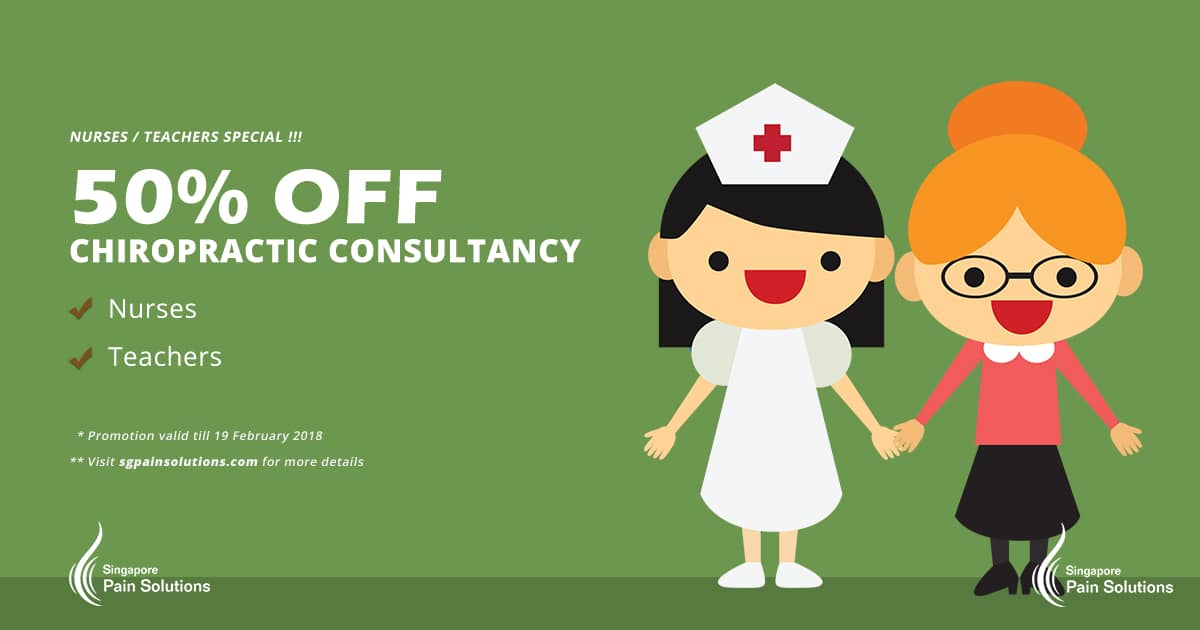 Singapore Pain Solutions is pleased to roll out a chiropractic consultancy promotion just for our friends working as professional teachers and nurses. Do you have friends who work as teachers or nurses and suffer from back-pain? Share with them now!
Who are qualified:
Men and Women who work as professional teachers and nurses.
Promo:
50% off the initial consultation of $75.
How to redeem:
Make an appointment with us ( you can call 6384 7385 or use our online booking system). On the day of appointment please present your hospital pass and MOE pass.
Promotion has ended! Thank you for your support.

Thank you for serving our nation selflessly!
---
Want to Find Out More?
Find out more about how can chiropractics really help or check out our latest chiropractic fees for more information now.

Dr. Jenny Li is America trained chiropractor who specialises in sports injury, sports performance, and spinal health. She graduated from Palmer College of Chiropractic in United States, upon completion of the her post graduate program she practiced in Hong Kong and currently is practicing in Singapore. Dr. Jenny believes optimal sports performance starts with structure of human body as she helps her patients to achieve breakthroughs in their performance by choosing chiropractic. She is also the contributing writer for local online health and lifestyle magazine Soulscape.

Dr. Jenny Li is the appointed chairman of Medical Committee for NABBA WFF Singapore.

Latest posts by Dr. Jenny Li (see all)